FINANCIAL ACCOUNT THEORY AND OBJ ANSWERS FROM EXAMCLASS.NET
-=-=-=-=-=-=-=-=-=-=-=-=-=-=-=-=-=-=-=-=-=-=-
Financial account obj
-=-=-=-=-=-=-=-=-=-=-=-=-=-=-=-=-=-=-=-=-=-=-
1-10: AAABADDDDA
11-20: CBBBBBAACC
21-30: BADBDADDDD
31-40: AACDBADDAA
41-50: BBCBBBAAAD
√completed√
THEORY PART [1,3,6,9]
-=-=-=-=-=-=-=-=-=-=-=-=-=-=-=-=-=-=-=-=-=-=-
1a)
i)trade discount An amount or rate by which the catalog, list, or retail price of an item is reduced when sold to a reseller.
ii)cash discount is a deduction allowed
by the seller of goods or by the provider of services in order to motivate the customer to pay within a specified time.
iii)bad debtis a monetary amountowed to a creditor that is unlikely to be paid and, or which the creditor is not willing to take action to collectbecause of various reasons, often due to the debtor not having the money to pay
iv)provision for doubtful debts is the estimated amount of bad debt that will arise from accounts receivable that have been issued but not yet collected.
v)bad debt recovery is business debt from a loan, credit line or accounts receivablethat is recovered either in whole or in part after it has been written off or classified as a bad debt.
1b)
i)Error of commission
ii)Error of principle
iii)Error of compensation
iv)Error of original entry
v)Error of transition
-=-=-=-=-=-=-=-=-=-=-=-=-=-=-=-=-=-=-=-=-=-=-
3a)
suspense account is an account in the general ledger in which amounts are temporarily recorded.
3b)
i)Provision Profit and loss account will not disclose true profit/loss, unless provision is created.WHILE Revenu Profit and loss account discloses true profit/loss, even if no reserve is created.
ii)expense is the term for a cost incurred in the process of producing or offering a primary business operation. While Revenue is the term used to describe income earned through the provision of a business' primary goods orservices.
3c)
i)capital reserve- this is a type of account on a municipality's or company's balance sheetthat is reserved for long-term capital investmentprojects or other large and anticipated expenses that will be incurred in the future.
ii)revenue reserve- The portion of a business' profits retained by the companyfor investmentin future growth, and are not redistributed to the shareholders through regular or special dividends.
-=-=-=-=-=-=-=-=-=-=-=-=-=-=-=-=-=-=-=-=-=-=-
6)
Tabulate
Sales lodger control account
Mar 2016
Sale journal =GH$112,415
cheque dishonoured =GH$300
cash refuned =GH$150
set off =GH$500
interested charge =GH$50
bal c|d =GH$125
total =GH$113,540
apr 2016
bal b|d =GH$6,540
-Left-Table-
Mar 2016
Bal b|d ={113540-112540} GH$1000
cash received =GH$101600
returnted inwards =GH$1700
discount allowwed =GH$2500
bad debt written off =GH$200
bal c|d =GH$6540
apr 2016
bal cld =GH$125
total =GH$113,540
-=-=-=-=-=-=-=-=-=-=-=-=-=-=-=-=-=-=-=-=-=-=-
9a)
Tabulate
Agege local government
Statement of capital expenditure for the year ended 31st
Extention of classroom =N400,000
construction of bridges =N635,000
purchase of drugs =N135,000
provision of street light =N74,500
renovation of office building =N106,500
Total= N1,351,000
31st Dec bal C|d =N1,351,000
Total =N1,351,000
9b)
Tabulate
statement of recurrent expeniture for the year ended
Entertainment =N45,900
training and development =65,330
maintenance of motor vehicle =55,800
administrative expenses =100,870
salaries of traditional chief =105,000
disposal of refuse =203,440
postages and salaries =123,450
personel cost =877,540
total =N1,577,330
31st dec bal c|d =N1,577,330
total =N1,577,330
{No 8} …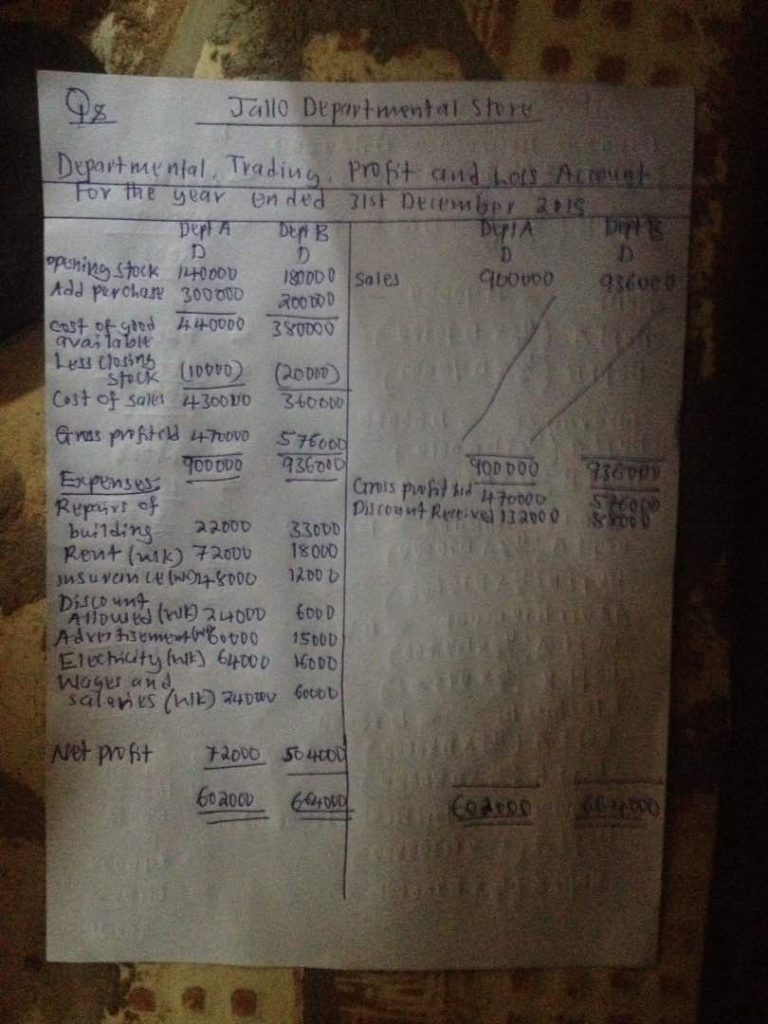 Mr class cares
Answers loading…
=-=-=-=-=-=-=-=-=-=-=-=-=-=-=-=-=-=-=-=-=-=-
We're At Work
PLS KEEP REFRESHING THE PAGE
TO KNOW WHEN ANSWERS IS POSTED HERE
=-=-=-=-=-=-=-=-=-=-=-=-=-=-=-=-=-=-=-=-=-=
ANSWERS LOADINQ….
=-=-=-=-=-=-=-=-=-=-=-=-=-=-=-=-=-=-=-=-=-=